Finding the bestSpoken English Course in Uttara is easy, and I'll tell you about it. First, you should know Uttara is near Dhaka, Bangladesh's capital. Uttara has 14 parts, called sectors, from 1 to 14.
Sectors like 1, 3, 5, and 7 are on one side of the main road. Sectors like 2, 4, and 6 are on the other side. Now, they are adding more sectors, like 15 to 18.
Let's talk about the Spoken English course in Uttara.
Do you live in Uttara? Want to speak English well? Take a course! There's one in Uttara. It'll help you speak English right.
But, pick the best course. Save your time, energy, and money. Check out reviews of coaching centers in Uttara to find the best English course.
Spoken English course in Uttara offer by Saifur's:
S@ifur's, the pioneer institute, offers the Best spoken English course in Uttara to effectively learning English. it's started on the journey in 2002. Moreover, the aim is to enable the masses of people to achieve their dreams.
From the beginning of our journey:
We helped our students to realize their potential. We provided them with the best resources and gain to their competitive edge.
To safeguard our trusted name. We are committed to providing the best services and information. Our preparation books and other resources for inspired individuals determined to take the next steps in their life.
Saifur's Uttara Branch address: Spoken course
Road-1/B, House-02, (Opposite to Mascot Plaza) Sector-09, Uttara, Dhaka.
Phone: 01613 43 20 37
Email: [email protected]

Mentors Uttara Brach
Mentors are the most reputed educational institution. Not only that it is also an admission consulting house dedicated to preparing students. Moreover, It's a student-focused institution that offers a vibrant and inspirational learning environment.
Courses
Our excellent pool of teachers, and comprehensive courseware, and the highest number of practice tests lead towards complete preparation. Moreover, our dedicated and interactive instructions in small classroom settings for personal care ensure the best results. All these are meant for the test success of our students.
Services in uttara
Our one-stop service that includes initial counseling, admission, and in addition to scholarship assistance, visa documentation, traveling, and accommodation has made us one of the most reputed organizations providing foreign admission services.
Mentors' are proud to have discerning management with a vision for improvement. We update our program planning, courseware, and services to remain at the forefront of quality service.
Suggestions:
We also welcome valuable suggestions coming from our students and their guardians. This is the secret of our improvement.
Dear STUDENTS, you are at the crossroads of your academic life. Besides that make the right choice and ensure better mileage out of every learning effort and like thousand of others who have tremendously benefited from our high-quality programs.
We invite you to visit our campus in person, know about our programs, talk to our students, and EXPERIENCE THE DISTINCTIVE SPIRIT OF Mentors'. -this content sources from the Mentors website
Mentors Uttara Branch
House No – 1/C, Road No – 2 (Behind London Plaza/Bally Complex), Sector – 3, Uttara,
Dhaka-1230.
48959796
01713243438
01713243439
[email protected]
FM Method
The oldest coaching in the city is FM Method. The most scientific and creative way of teaching English. Besides that, it is the latest, improvised, most innovative, easiest, and fruitful system of learning Spoken English.
Lastly, FM Method is the name of the movement for creating intelligent human resources because our students learn spoken English easily.
Address: 12 Service Rd, Dhaka 1230
Phone: 01912-391234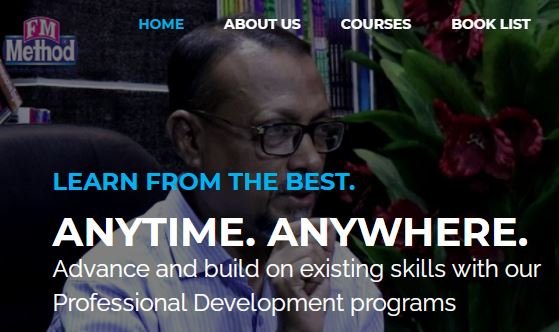 Review of top 3 spoken english course in uttara is finish. Thanks a lot.