Are you embarking on the IELTS journey? The Listening module, with its mix of everyday conversations and academic lectures, often appears as a formidable challenge. Fear not! With a blend of the right strategies and consistent practice, you can confidently conquer this segment. Dive into our essential guide tailored specifically for better preparation in IELTS Listening.
Make sense of the IELTS Listening Test:
The first step is always understanding. Spread across roughly 30 minutes, this module includes four sections. Each segment graduates in difficulty, encompassing various scenarios from casual chats to scholarly discussions.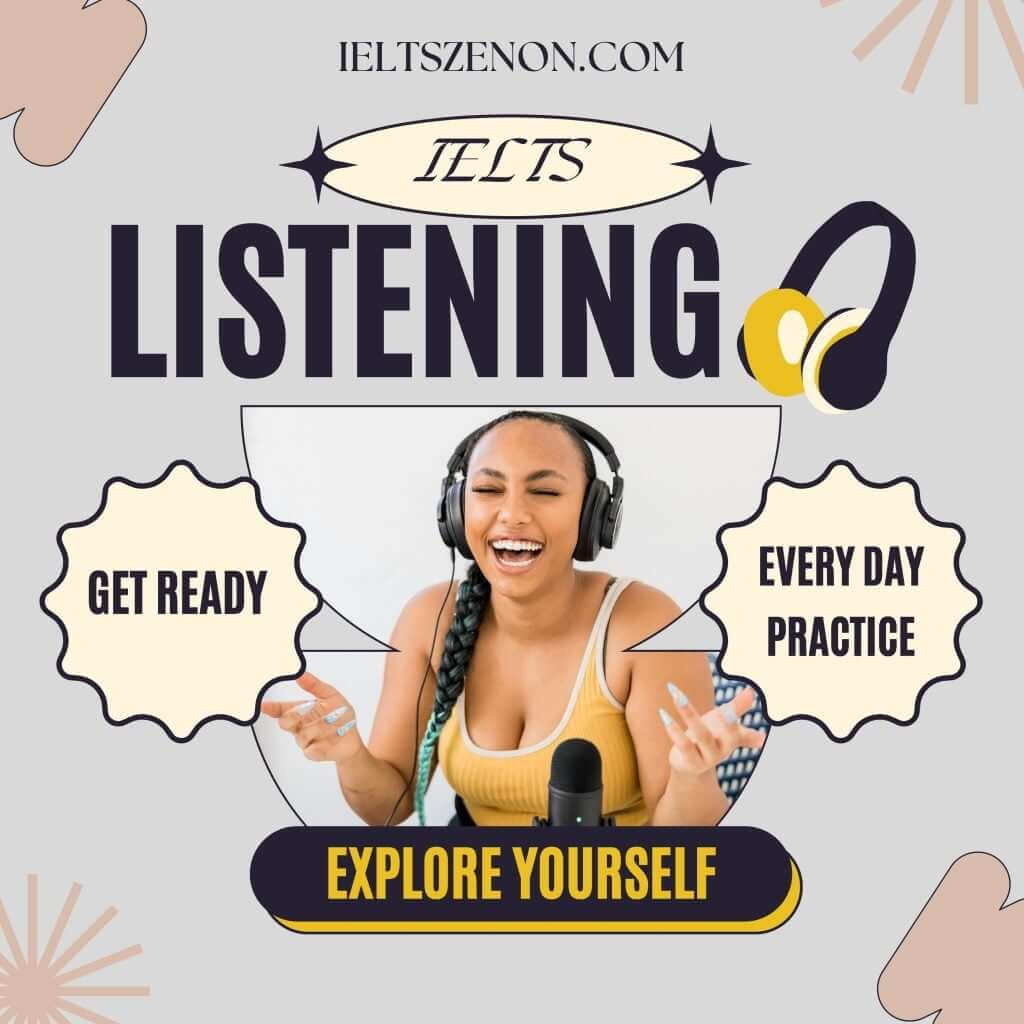 Effective Strategies for IELTS Listening Mastery:
Diverse Listening Practice: Expand your horizons beyond typical IELTS materials. From podcasts such as the BBC World Service to global news broadcasts, exposure to a myriad of accents and dialogue speeds will sharpen your listening skills.
Harness the Digital Wave: Numerous online platforms, including ieltszenon.com, offer specialized tools—think mock tests, sample recordings, and timed exercises—that mirror the real IELTS Listening experience.
Predictive Listening: IELTS, though diverse, often follows certain patterns. Train your ears to anticipate information types, whether it's a name, a location, or a date.
Mastering the Note-taking Game: While listening, swift note-taking can be a lifesaver. As you practice, develop a shorthand or a system to capture crucial points without missing a beat.
Stay Cool, Stay Focused: Missed an answer? Don't panic. Regain your composure, refocus, and proceed. Your ability to recover and move forward can make all the difference.
Consistent Reviews: Repetition is the mother of retention. Revisit challenging audio clips, understand your mistakes, and fine-tune your approach.
Simulate to Stimulate: Regularly engage in full-length IELTS Listening mock tests. They acclimate you to the test environment, enhance endurance, and provide a realistic benchmark of your progress.
You must know about IELTS Listening
Navigating the intricate avenues of IELTS? The Listening module often emerges as an intriguing yet challenging segment for many. However, with the right knowledge and strategies in your pocket, you can seamlessly weave through this section. Here's everything you must know to ace IELTS Listening.
An Overview of IELTS Listening:
IELTS Listening is a 30-minute test segment, designed to assess your ability to understand spoken English in various contexts. Comprising four sections, it incrementally intensifies, starting from social situations and culminating in academic discussions.
Unlocking Success: Key Insights for IELTS Listening:
A Spectrum of Accents: Diverse accents, ranging from Australian and British to North American, grace the test. Broaden your exposure by tuning into global radio stations or podcasts like the BBC to familiarize yourself.
Digital Arsenal: We're in the golden age of digital learning. Websites such as ieltszenon.com are treasure troves, offering practice tests, audio samples, and essential tips tailor-made for IELTS Listening.
Focus on the Format: Understanding the question types—from multiple-choice and map labeling to sentence completion—gives you a strategic edge. Forearmed is forewarned.
Efficient Note-taking: The IELTS Listening section is a race against time. Crafting a personal shorthand or symbols can streamline your note-taking, ensuring you capture vital information efficiently.
Stay Adaptable: Missed an answer? Stay adaptable and resilient. Losing focus can snowball into missing subsequent answers. Train your mind to move on swiftly.
Regular Revisions: Revisit, review, and refine. Periodic assessments of your performance can highlight areas of improvement, ensuring consistent growth.
Mock Tests Matter: A simulated testing environment can acclimate you to the actual test's pressure and pacing. Don't underestimate the power of mock exams.
Wrapping Up:
IELTS Listening, though intricate, becomes approachable with the right approach and resources. It's not just about raw skill; it's about strategy, practice, and adaptability. With these insights, you're not only preparing for the test but also ensuring a strong performance. Dive into the world of IELTS Listening with confidence, and let your preparation echo in your scores!
Recent Update
Latest Resources
Expert mentors' 20 suggestions for IELTS Listening
IELTS Listening tests your comprehension of spoken English in diverse situations. The recording plays just once, requiring you to be attentive throughout. So, how can you optimize your chances? Read on!
One-time Playback: Remember, the recording is played only once. To succeed, practice completing full listening tests, ensuring you're accustomed to this one-time-only format.
Training vs. Test Mode: While honing skills and vocabulary, it's beneficial to replay recordings. However, replicate real test conditions regularly for the best results.
Master Multitasking: Read questions, listen for answers, and jot down notes simultaneously. This skill is crucial and will benefit from regular practice.
Answer Sheet Familiarity: Before the big day, practice transferring answers onto the official IELTS listening answer sheet. [Link provided]
Pencil Over Pen: On test day, use a pencil, not a pen, to record answers—similar to the IELTS reading test.
Scoring System: Your score is based on the number of correct answers. Contrary to some beliefs, wrong answers don't negatively impact your score. [More about IELTS band scores]
Guessing is Golden: Unsure of an answer? Always hazard a guess. You might just hit the bullseye!
Capitalization Choice: Answers can be in capital or lowercase letters. For consistency and clarity, consider using capital letters throughout.
Must Flow: to get you target score
Word Count Wisdom: Stay vigilant about word limits for answers. Instructions might dictate specific word counts, like "No more than two words and/or a number."
Numbers and Word Dynamics: Familiarize yourself with how certain items are counted – for example, "1950" is one number, while "1,000,500" is counted as a single word.
Contextual Answers: Your answers must suit the context. For instance, if completing a sentence, the answer should be grammatically correct.
Beware of Spelling Slip-ups: Incorrect spelling equals a wrong answer. Listen now, but double-check spellings when transferring answers.
Answer Type Clarity: For multiple-choice questions, write the letter corresponding to the answer, not the word or phrase itself.
Diverse Question Types: Prepare for an array of question styles, ranging from form completions to map labelling. [Explore more on the IELTS listening page]
Maintain Focus: IELTS often includes extraneous information. Zone in on answering questions, not understanding every single detail.
Pace of Answers: Answers might be spaced out or come in rapid succession. Prepare for both scenarios.
Tricky Plurals: IELTS might test your ability to catch plurals. Stay alert for them!
Distractions and Deceptions: Be cautious of answers that are stated and then altered, or words that seem right but aren't.
Move Forward: Miss an answer? Don't dwell. Progress to the next question and maintain your focus.
Stay Engaged: Practice maintaining your concentration for the full 30-minute test duration.
35 practice lessons to Getting Ready for IELTS Listening
Top 10 Ways to Prepare for IELTS Listening