Saifurs English Spoken
Hey! Hello! How's everything going today? I hope you're doing well. Now, allow me to introduce myself: I'm Ferdous. Today, I'll be shedding light on Saifurs English Spoken course and books. Why, you might ask? Well, because I've spent an impressive fourteen years in this domain.
Firstly, it's essential to note that S@ifur's stands out as a renowned institution, especially when it comes to spoken English courses and books. Owing to their reputation, they've managed to expand significantly, establishing numerous branches across Bangladesh.
Furthermore, within this institute, there's something for everyone. To illustrate, they offer an array of Spoken English courses, catering to all types of learners – right from the absolute beginners to the advanced enthusiasts.
Lastly, what truly elevates their offerings is the team behind it all. The organization prides itself on having a fleet of experienced teachers. Their primary objective? To meticulously refine your fluency and ensure precision in your spoken English.
Benefits of Saifurs English Spoken
Joining Saifur's is a big deal. It's a top school. Next, let's talk about why their English courses are good. First, learning English there can make you more confident. Then, you might get better job offers and earn more money. No matter where you work or study.
Also, meeting people from different places is fun. Plus, you'll learn about other cultures. The course will teach you many English words and how to remember them. So, you'll speak English well and say words right.
In the end, knowing English helps you grow. People also respect you more."
Spoken Class video
You can watch the video to know that how the class will be. it's a real video class. I think you will enjoy the video. Let's watch:
Characteristics of the course:
Firstly, students can expect an air-conditioned classroom that boasts a comfortable and inviting environment. Additionally, the course schedule is crafted keeping in mind the convenience of attendees, ensuring that the timing is just right.
Beyond this, they provide essential course materials to aid the learning process. Notably, the institute takes pride in having both expert and seasoned teachers, guaranteeing the best learning experience for students.
Moreover, an added benefit is the opportunity for students to practice conversational English outside of regular class hours, enriching their real-world language exposure. Last but not least, the meticulous supervision of the course manager ensures that the program remains top-notch and student concerns are addressed promptly."
Course Curriculum:
Email Writing – Tips and Techniques.
Present Tense Mastery Using Stories.
Verbal Aptitude Preparation.
Growth Mindset in English.
Grammar.
Build Confidence Over Live Meetings.
Parts of Speech.
Start speaking real, grammatically correct English fluently, effortlessly, and confidently today.
Make Conversation.
Develop your English Vocabulary using online activities and create your own vocabulary booklet.
Improve your English Listening skills – listen to a native speaker.
Grow your English Language knowledge with hundreds of new words and phrases.
Body Language.
Build your English Speaking skills – speak English fluently, like a native Speak English confidently and naturally on a wide range of everyday topics.
Past and Future Tense Mastery Using Stories.
Understand Movies and Tv Shows in English.
Talk in Live and Meeting.
Listening, Speaking, Reading & Writing Activity.
Batches and class of the Course:
Duration: 3 months
Course fee: BDT 6000/-
The course begins: Every month
Maximum admission per batch: 30 candidate
Reason to choose S@ifur's:
Saifur's is known as a top English school in Bangladesh. Wondering why it's so loved? Let's explore.
Firstly, they provide great study books filled with helpful words. So, students find it easier to learn. Additionally, they set class times that suit everyone.
Next, the school feels welcoming. Their lessons are easy to follow, showing they care about good teaching.
Also, the teachers at Saifurs really know their stuff. Many students praise them. And, the school has lots of room for everyone to study comfortably."
Saifurs Offer: Spoken English course for Corporate:
Saifur's has a team for businesses. They give training to groups in companies all over Bangladesh. The trainer can teach at the company's place. If you want this service, you can email them at corporate.saifurs@gmail.com.
Some Student feedback:
There are some people feedback about Saifur's and service: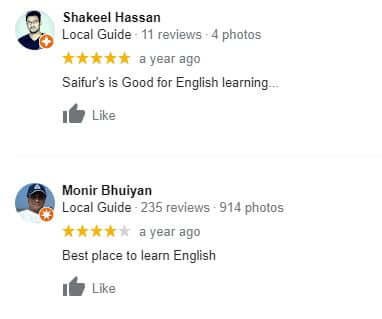 Spoken English Books of Saifurs by Saifur Rahman Khan
Books are very important to learn spoken English. Saifurs publication publishes many books to learn spoken English. Let's have a look :
01. Zero to hero in spoken English
This is a very effective book to learn to speak English. I speak out about the book in another post. Learn more
02. Passport to grammar
Saifurs passport to grammar book is a very basic book for all the students. More about the book.
03. Saifurs Vocabulary
Really an important book for everybody. there is another post about the book. More about
04. Saifurs Elementry spoken
Very popular and easy self-learning book for spoken English. Get the book
Importunacy of Spoken English:
In today's world, English is very important. Why? Because many people use it for work, business, or travel. Without English, it's hard to communicate. So, if you want a good career, you must learn English. Thanks for reading! Goodbye!