Saifurs English Spoken
Hey! Hello! How are you today?. Here is Ferdous to speak out about Saifurs English Spoken course and Books. I am telling this Because I have fourteen years of experience in this field.
S@ifur's is a very famous institute for spoken English courses and books.
They have a lot of branches all over the country in Bangladesh. In this institute, you will get different batches for Spoken English courses for all levels of students if I say from beginner to advance.
The organization has experienced teachers to develop your fluency and accuracy in spoken English.
Benefits of Saifurs English Spoken
You will feel proud when you are admitted to Saifur's because it is a very popular institution.
Let's talk about the benefits of Saifurs English spoken course and books.
Learning to speak English will increase self-confidence
Promotion and income will increase from whatever job, business study you do.
You will be happy to get to know different language speaking people, countries and cultures.
You will learn important vocabulary and memorization skills.
Be able to speak English fluently and learn and practice correct pronunciation.
Learning English brings more respect to people and society.
Spoken Class video
You can watch the video to know that how the class will be. it's a real video class. I think you will enjoy the video. Let's watch:
Characteristics of the course:
Aircondition with a nice environment in the classroom.
Classes in the Course in Convenient time.
Important course material.
Expert and experienced teacher.
The advantage of practicing conversation in English outside of class time.
Supervision of Course manager.
Course Curriculum:
Email Writing – Tips and Techniques.
Present Tense Mastery Using Stories.
Verbal Aptitude Preparation.
Growth Mindset in English.
Grammar.
Build Confidence Over Live Meetings.
Parts of Speech.
Start speaking real, grammatically correct English fluently, effortlessly, and confidently today.
Make Conversation.
Develop your English Vocabulary using online activities and create your own vocabulary booklet.
Improve your English Listening skills – listen to a native speaker.
Grow your English Language knowledge with hundreds of new words and phrases.
Body Language.
Build your English Speaking skills – speak English fluently, like a native Speak English confidently and naturally on a wide range of everyday topics.
Past and Future Tense Mastery Using Stories.
Understand Movies and Tv Shows in English.
Talk in Live and Meeting.
Listening, Speaking, Reading & Writing Activity.
Batches and class of the Course:
Duration: 3 months
Course fee: BDT 6000/-
The course begins: Every month
Maximum admission per batch: 30 candidate
Reason to choose S@ifur's:
Saifurs is a professional and famous spoken English training institute in Bangladesh. Why they are famous let's talk about this;
Reach Study Material with necessary vocabulary.
Class timings and commitments
Nice Environment
Systematic study and course plan.
Experienced teaching and staff guidelines.
Ratings and reviews by previous students.
Spacious campus.
Saifurs Offer: Spoken English course for Corporate:
Saifur's has a special team for the corporate sector, and they offer for a group of people incorporate sector which is located across Bangladesh. In this corporate offer, the trainer will train the people in their office or any selected location. You may get a proposal by sending an email to the address; corporate.saifurs@gmail.com.
Some Student feedback:
There are some people feedback about Saifur's and service: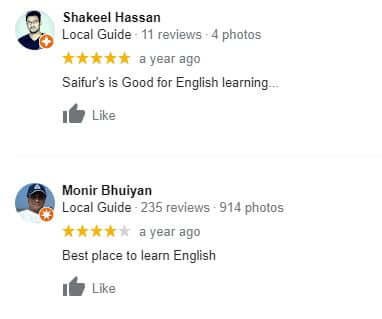 Spoken English Books of Saifurs by Saifur Rahman Khan
Books are very important to learn spoken English. Saifurs publication publishes many books to learn spoken English. Let's have a look :
01. Zero to hero in spoken English
This is a very effective book to learn to speak English. I speak out about the book in another post. Learn more
02. Passport to grammar
Saifurs passport to grammar book is a very basic book for all the students. More about the book.
03. Saifurs Vocabulary
Really an important book for everybody. there is another post about the book. More about
04. Saifurs Elementry spoken
Very popular and easy self-learning book for spoken English. Get the book
Importunacy of Spoken English:
In this age of globalization, there does not seem to be a need to understand the importance of English language education.
Almost all people who work, do business, or travel have English education compulsory because their communication will become obsolete.
So those who want to do well in their career have no choice but to learn English.
Thanks to read the post. bye! TA TA!!!