Saifurs IELTS
A very important post you are going to read now. Read this post carefully from beginning to end to find out why I call it important. Saifurs IELTS is one of the many institutes in Bangladesh for doing IELTS courses. For those who are preparing or thinking of preparing for IELTS, Saifur's IELTS course is a very useful course.
S@ifur's is the only one offering five different batches of IELTS. Whoever has the advantage, can choose such a batch. The batches of IELTS are:
Regular Batches:
In this classes held on 3 days in a week – 'Sat + Mon + Wed' or 'Sun + Tue + Thu'
Course duration – 4 months
Class time – 9.30 am, 11.30 am, 3.00 pm, 5.00 pm, 7.00 pm)
Crash batches:
Crash batch held on 6 days in a week – Saturday to Thursday.
Duration of the course – 1 month
Class duration – 1 hour 30 minutes
Class time – 8am to 8.30am
Professional Batches:
2 days a week – Friday and Saturday
Course duration – 1 month, 15 days
Class duration – 3 hours
Class hours – Friday from 3.30 pm to 6.30 pm and Saturday afternoon from 5.30 pm to 6.30 pm
Friday Batches:
Class 1 day a week – Friday only
Course duration – 3 months
Class duration – 3 hours
Class time – 2 slots (9am and 3pm)
Special General Trayng Batches:
Class 1 day a week – Friday only
Course duration – 3 months
Class duration – 3 hours
Class time – 9.00 am to 12.00 noon
Saifurs IELTS course Fee 2021
Course fee 2021: 11,000.00 Taka
Course Duration: 2.5 months
No. of classes: 28
Class Duration: 1.5 Hours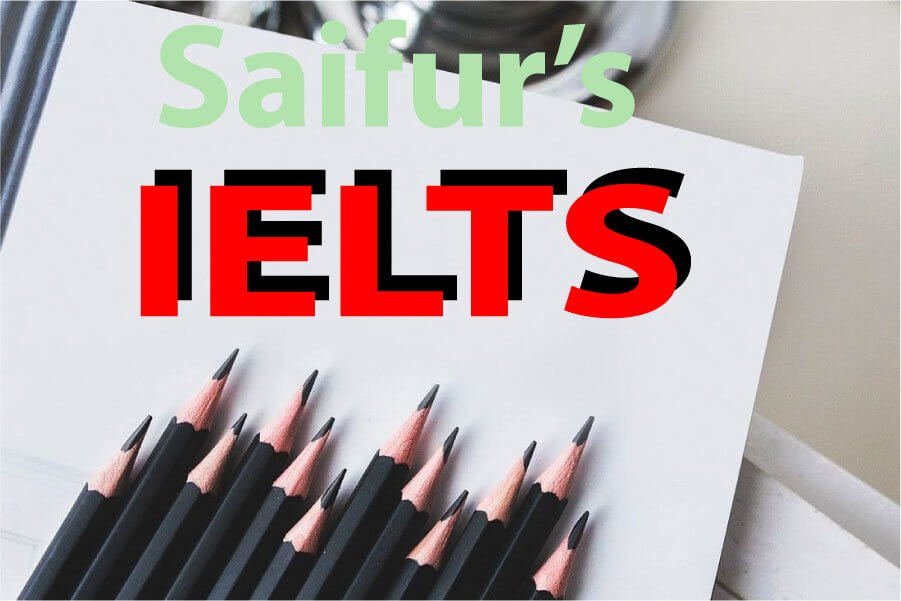 Saifurs IELTS: Reviews

Studeent said about the course

Firstly we should talk about Saifurs. You may have heard about Saifurs before. But I think I need to say something about Saifurs, hope you don't mind. It won't waste too much time.

S@ifurs has a long history of conducting teaching activities to prepare IELTS candidates. Almost all the students chose S@ifur's to take the IELTS course. That's why everyone says Saifurs IELTS course is very good.

Secondly, talk about the IELTS course, IELTS or International English Language Testing System is an English language proficiency test. IELTS score is required in many cases including employment, study abroad.

If you want good results on the IELTS test, you must seek the help of a good organization and a good teacher. Since you do not have much time on hand, you should be admitted to any institution after getting selected. Because it will lose your time and money.

At one time Saifurs had a reputation for IELTS, but they have failed to maintain their reputation. Because of the management of the institution, skilled and senior teachers leave the institution.

They do not have that reputation today due to many reasons including excessive business mentality. And Now there are many better institutes in the market than Saifur's for conducting IELTS courses. I will speak out about others institutes in a different post. I think you will read that post.
---
IELTS Course offer by Saifurs
Academic and General Training both modules are available in Saifurs IELTS. You already know about the curriculum and batches of the course. So I did not repeat here and Let's go for more about the IELTS course:
Course Details: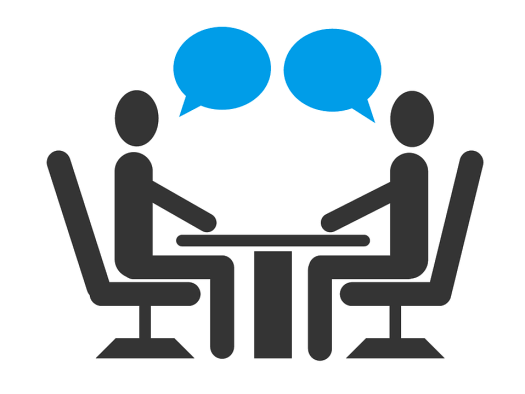 Basic Reading Module:
7 classes (Elaborate discussion on each question type with examples)
Writing Module:
8 classes (Task-1 and Task-2 Writing strategies and good writing build-up techniques)
Reading-Writing Module:
4 classes Overall review and extensive practice sessions
Listening Module:
6 classes (Question types, analysis, and practice sessions)
Speaking Module:
3 review classes and unlimited interviews at the Support Centre.
Extra Facility in IELTS course:
25 free mock test facilities under the supervision of a skilled observer in a beautiful, pleasant environment and air-conditioned room.
The IELTS Help Center will be open 7 days a week from 10 am to 9 pm
In the support center, you can practice speaking with full-time tutors and classmates.
You can practice listening and writing scripts in the audio lab and get evaluations from tutors.
You can repeat Saifur's IELTS course without any fee until you get the desired score.
Characteristic of Saifurs IELTS
> Study room with all resources
> Unique course materials
> Rich library facility with necessary books
> Expert and experienced teachers

All are available for admited student
IELTS Preparation
books

by Saifur sir

Saifurs has several books on IELTS preparation. Books can be ordered online or purchased directly from any branch of Saifurs. Other than that some books will be available only if admitted, So you should get admit and collect the book.

Saifurs IELTS books are published under the supervision of Saifur Rahman Khan Sir. Saifur's has some exceptional differences from other books on the market.
Cambridge IELTS 12 Academic Reading book with Bangla translation and long description.
Satisfied with the Bengali meaning of the big unseen passage Reading Skills to learn to solve
3 book for IELTS academic reading passage solves with Bangla explanation.
Branch address of Saifurs IELTS
1.Lalmatia Branch:
Sunrise Plaza (5th Floor, Lift-5), 3/1 Block-A, Mirpur Road, Lalmatia, Dhaka-1207.
01613 43 20 21
saifurs.lalmatia2017@gmail.com
2.Panthapath Branch:
RH Home Center, Holding No. G-25, Ground Floor, Green Road, Farmgate, Dhaka.
01613 43 20 06
saifurs.panthopath@gmail.com
3.Farmgate Branch:
Capital Market, (3rd Floor) Borobazar, Farmgate, Dhaka – 1205
01613 43 20 07
saifurs.farmgate@gmail.com
4.Mouchak Branch:
Ayesha Shopping Complex, 85 New Circular Road, 3rd Floor, Malibagh, Dhaka-1217.
01613 43 20 36
saifurs.siddeswari@gmail.com
5.Mirpur-10 Branch:
Samad Mansion (4th Floor, Lift-4), Falpatti, Mirpur-10 Golchuttur, Dhaka – 1216.
01613 43 20 43
Saifurs.mirpur@gmail.com
6.Uttara Branch:
Road-1/B, House-02, (Opposite to Mascot Plaza) Sector-09, Uttara, Dhaka.
01613 43 20 37
saifurs.uttara@gmail.com
7.Old Dhaka Branch:
Ray Saheb Bazar, (3rd Floor, Upper Floor of Medinova Hospital), Old Dhaka, Dhaka.
01613 43 20 40
saifurs.olddhaka@gmail.com
8.Narayanganj Branch:
79, BB Road, Midtown Complex, (4th Floor, Upper Floor of Islami Bank), Narayanganj.
01613 43 20 92
saifurs.narayanganj@gmail.com
9.Sylhet Amberkhana:
Moeen Complex (2nd Floor), Amberkhana, Sunamganj Road, Sylhet.
01613 43 20 08
saifurs.amberkhana@gmail.com
10.Rangpur Branch:
M H Bussiness Center (1st Floor), Dhaka Hotel Goli, Jahaj Company More, Rangpur.
01613 43 20 23
saifurs.rangpur@gmail.com
11.Bogura Branch:
Robi Customer Care Building (5th Floor), Kalibari More, Jalesharitola, Bogura.
01613 43 20 38
saifurs.bogra@gmail.com
12.Chittagong Chawkbazar Branch:
Laboratory College Building (3rd Floor), Chatteshwari Road, Chawkbazar, Chittagong.
01613 43 20 44
saifurs.chittagong@gmail.com
13.Khulna Daulatpur Branch:
Hazi Sariatullah Market (2nd Floor), Khan A Sabur Road, Daulatpur, Khulna.
01613 43 20 71
mdraisul1996@gmail.com
14.Mymensingh Branch:
82/A, CK Ghosh Road, 3rd Floor, Moli Tower (Opposite to Sarinda Restaurant), Mymensingh.
01613 43 20 28
Saifurs.mymensing@gmail.com
Get a Discount on the IELTS course
Admission fees and book discounts for IELTS courses at Saifur's Coaching Center are not an issue. There is always a discount, and if you bargain, you can reduce the admission fee.
A part of student IELTS result
Below is information on some of the students who did well in the IELTS course from Saifur's.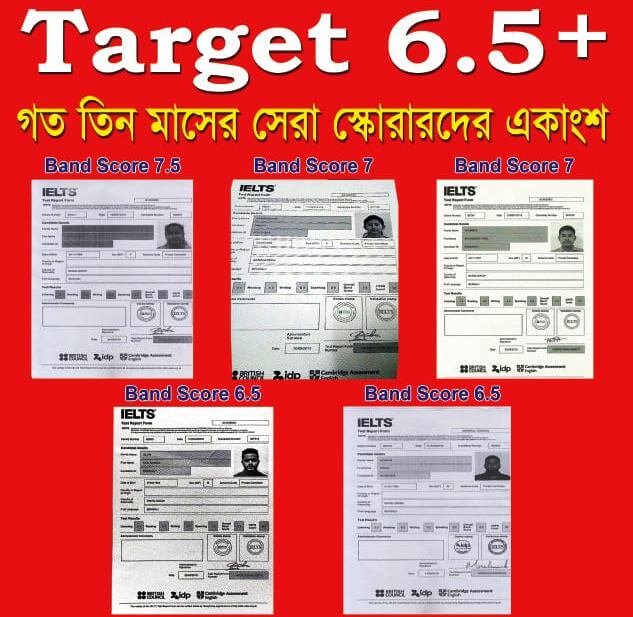 ---
---
---
Take IELTS free class booking
Classes that have the opportunity to take classes without being admitted to Saifur's are called free classes. If you feel like doing free classes, you can get admitted and do the whole course.
If you want to do free classes, you have to book or register first. Contact with the number or email address: 01713432023, or booking.saifursielts@gmail.com
FAQ:
Who is the best teacher in Saifurs IELTS?
Rimon moral is the best teacher in Saifurs IELTS.
Which branch is best for IELTS in Saifurs?
Uttara branch is best for IELTS
Is there any practice room for IELTS students?
Yes, there is a practice room for IELTS students.
How can I get a big discount for Saifurs IELTS course?
Talk with a branch manager for a big discount.
How long does it take to complete an academic or general training IELTS course?
Total in 3 months, 3 Days in a week
How many months should be studying for IELTS in Saifurs?
4 months is regular, you can get more time if you need.