Ghanaians aspiring to study or work in English-speaking countries, this is the go-to examination. But, where should you start your IELTS journey in Ghana? This post provides a comprehensive guide to the cost, training centers, best teachers, recommended books, and how to choose the right IELTS test for your needs.
Sɔhwɛ bɛn na wuhia ma Student anaa immigration visa
"Ɛbɛyɛ dɛ sɛ woboa yɛn hu sɛnea IELTS yɛ wɔ Ghana: Nkɔsoa ma Students ne Amanfoɔ a wɔrebɛbra. Wɔka ho kyerɛ sɛnea ebinom hia no ma wɔn visa ne sɛnea ebinom so yɛ dɛ wɔ Ghana mu, na wɔn nnidi no ma Akan kasa."
Cost of IELTS in Ghana
Getting quality always comes with a price tag. In Ghana, the IELTS exam registration fee can vary, but it typically ranges from GHS 1200 to GHS 1500. It's essential to budget not just for the test but also for preparatory materials and classes, if you decide to take them.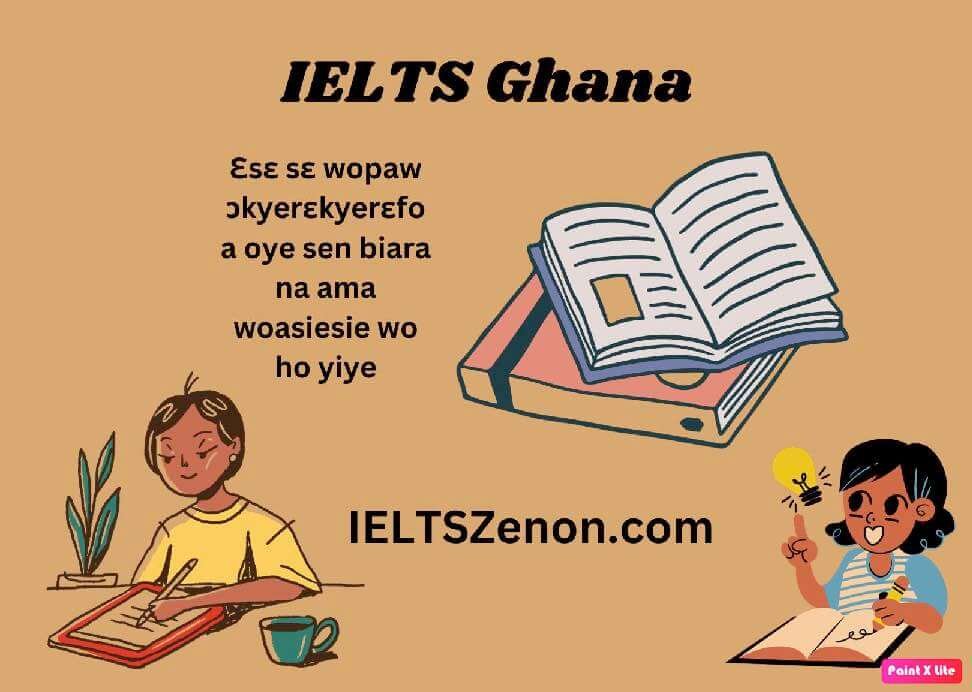 Top IELTS Training Centres in Ghana
Numerous centers offer IELTS training, but the best ones are equipped with modern facilities, experienced tutors, and a proven track record. Some notable training centers include:
The British Council, Accra: This is the official IELTS test center in Ghana. Apart from conducting the test, they also offer preparatory classes.
Lancaster University, Ghana: Known for its extensive library and dedicated tutors, it's a great place to prepare for your exam.
Searching for the Best IELTS Teachers
While facilities matter, the essence of preparation lies in the hands of an experienced teacher. The best teachers are those who have a deep understanding of the IELTS examination, its nuances, and strategies to tackle each section. You can often find top-rated tutors at the above-mentioned training centers or through personal recommendations.
Best Books for IELTS Preparation
There's no shortage of preparatory materials for IELTS, but some stand out from the rest:
"Barron's IELTS Superpack": Comprehensive and updated, this set gives you a thorough preparation for both the Academic and General Training tests.
"Cambridge IELTS Series": Published by Cambridge University Press, these books provide actual IELTS past papers, giving you a feel for the real exam.
Choosing the Right IELTS Test: Academic vs. General Training
Now, to the pivotal question – which test should you take? There are two main IELTS tests:
IELTS Academic: Ideal for those seeking higher education or professional registration in an English-speaking environment.
IELTS General Training: Suited for those migrating to Australia, Canada, or the UK or applying for secondary education or work experience in an English-speaking country.
Why Every Aspiring IELTS Candidate in Ghana Should Take Notice
Ghana, the heart of West Africa, is not just rich in gold, cocoa, and culture but is also an ever-growing hub of education and global migration. A significant part of this growth trajectory is the pivotal role of the IELTS exam. When a student or a hopeful migrant in Ghana says, "Sɔhwɛ bɛn na wuhia ma Student anaa immigration visa," they're invariably pointing towards the IELTS. Let's delve into why IELTS Ghana is a term gaining so much traction.
The Gateway to Global Opportunities
IELTS, or the International English Language Testing System, serves as a global yardstick to measure English language proficiency. Whether you're a student aiming for the ivy leagues or an ambitious individual seeking better opportunities abroad, IELTS becomes your passport. In the echoing words of the local Akan language, "Sɔhwɛ bɛn na wuhia," which translates to 'What are you looking for?', the answer often is – opportunities, and IELTS Ghana promises just that.
Why IELTS Ghana Stands Out
The increasing popularity of IELTS in Ghana is not merely a trend. It's backed by a robust system that understands the unique linguistic landscape of the nation. With over 250 languages spoken across Ghana, Akan, especially, holds a significant place. Hence, IELTS preparation centres and resources in Ghana are tailored to suit the linguistic nuances of the local population, ensuring that candidates don't just pass but excel.
Transitioning Towards Global Proficiency
Transitioning from local dialects like Akan to mastering global English standards might seem daunting. However, IELTS Ghana ensures that this transition is smooth. Local centres offer courses that bridge the gap between the local dialects and English, making the entire learning process integrative and holistic.
Your Future Awaits: If you get good result in IELTS
As the world gets more interconnected, the importance of IELTS in countries like Ghana will only continue to grow. The aspiration encapsulated in the phrase "Sɔhwɛ bɛn na wuhia ma Student anaa immigration visa" is universal. So, if you're in Ghana and looking to carve a niche for yourself in the global arena, remember the value of IELTS. With the right preparation and mindset, the world truly becomes your oyster.
In Conclusion
Whether you're just starting your IELTS journey in Ghana or are in the midst of preparation, the right information is crucial. With the appropriate training center, the guidance of an adept teacher, and the best preparatory books at your disposal, you're well on your way to achieving your desired IELTS score. Remember, consistency and dedication in your preparation are key. Good luck!