Hey! You are welcome to my page IELTS life skills a1 listening practice test. On this blog page, I will show you the best and prodigious tips and tricks about IELTS life skills a1 listening. using or practicing the tips and tricks you will win your test result in a pass. So don't worry let's go to the practice test. You may go to check the test date.
IELTS Life skills a1 listening practice test : 2023
The IELTS Life Skills A1 listening component might seem daunting initially, but with the right insights and preparation, success is well within your reach. Embrace the journey, stay dedicated, and remember – it's all about mastering the art of conversation. Best of luck!
Important informaion about: IELTS Life skills A1 listening
In this part of the IELTS life skill A1 listening test, you will listen to two recordings and answer some questions. (audio does not include here, you should practice it.)
You have to make notes and the examiner provides the pencil and paper.
You will hear two people are talking in the played recordings about their plans for the weekend. Candidate will get the booklet and don't forget to open it on the correct page.
Question:
Where do they want to go at the weekend?
Select answer
To a town,
to the mountains,
or to the park?
Listening demo:
Read carefully all the post : and get benefit from it
IELTS can sometimes feel overwhelming, especially when faced with specific tests like the IELTS Life Skills A1. But fear not! In this article, we'll unpack the essentials of the IELTS Life Skills A1 listening component, making your preparation journey straightforward and effective.
Understanding the Basics
Firstly, what is the IELTS Life Skills A1? In simple terms, it's a unique variant of the IELTS, tailored for those needing to prove their English listening and speaking abilities at a basic level, often for visa or immigration purposes.
The Significance of Listening
Now, onto the listening component. Active listening isn't just about hearing words; it's about understanding and interpreting them. This skill becomes paramount when integrating into an English-speaking environment, making it a vital aspect of the Life Skills A1 test.
Test Format and Structure
The listening segment of the IELTS Life Skills A1 is seamlessly integrated with the speaking component, offering a real-life conversational experience. Expect to listen to and discuss everyday subjects, ranging from introductions to talking about your daily routine.
Preparation Tips
So, how can you ace this segment? Start by:
Practice Active Listening: Engage with English content regularly. Whether it's podcasts, news, or conversations, immerse yourself and try to comprehend the context.
Stay Calm and Focused: Remember, it's a conversation. Approach it naturally, focus on the content, and respond appropriately.
Familiarize with Common Topics: Get comfortable discussing basic subjects in English. This familiarity will boost your confidence during the test.
Let's see the Life skill a1 listening format: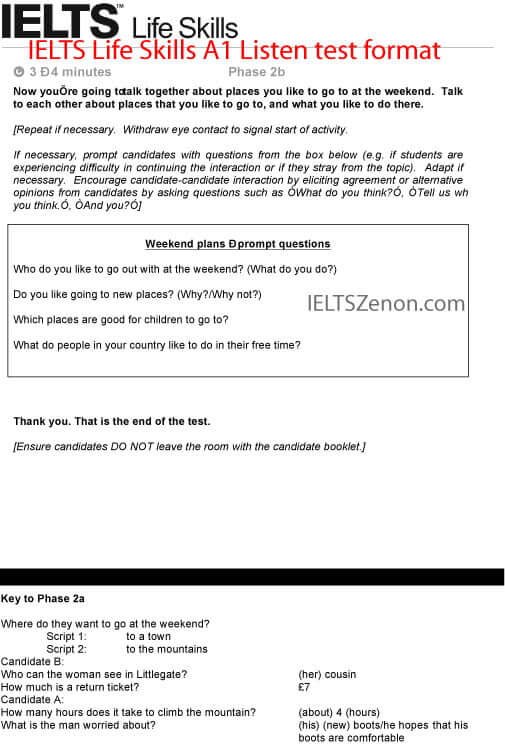 Demo video

:

IELTS Life skills A1 listening practice test

It's not a real test, it's a demo video for better understand. Just listen and watch the video of how the examiner and the candidates behave on the demo video of Ielts life skills a1 listening practice test. In this video, you will listen to 2 recordings. In the real test, the recording is played once only, so you must listen carefully.
You have to do in the listening test?
All Life Skills test-takers will be asked to complete a task played on a CD. Firstly when you complete the task, you'll be assessed on your ability to listen for both the general meaning and detail. Secondly, you will say your answers, although you can make notes on paper while you listen to the CD. Following this task, you will be asked to discuss a theme related to what you have listened to on the CD. read more
How will you assess in life skills a1 listening?
A Nominated expert examiner will assess your performance throughout the Speaking and Listening test based on obtaining information, conveying information, speaking to communicate, engaging in discussion.
What about Results for IELTS Life Skills A1 tests
The Test results are normally available within 7 days of your test.
You will be in: Pass/ Fail.
Download the test sample paper