IELTS Life skills a1 listening practice test : 2021
Hey! You are welcome to my page IELTS life skills a1 listening practice test. On this blog page, I will show you the best and prodigious tips and tricks about IELTS life skills a1 listening. using or practicing the tips and tricks you will win your test result in a pass. So don't worry let's go to the practice test. You may go to check the test date.
Important informaion about: IELTS Life skills A1 listening
In this part of the IELTS life skill A1 listening test, you will listen to two recordings and answer some questions. (audio does not include here, you should practice it.)
You have to make notes and the examiner provides the pencil and paper.
You will hear two people are talking in the played recordings about their plans for the weekend. Candidate will get the booklet and don't forget to open it on the correct page.
Where do they want to go
at the weekend?
To a town,
to the mountains,
or to the park?
Let's see the Life skill a1 listening format: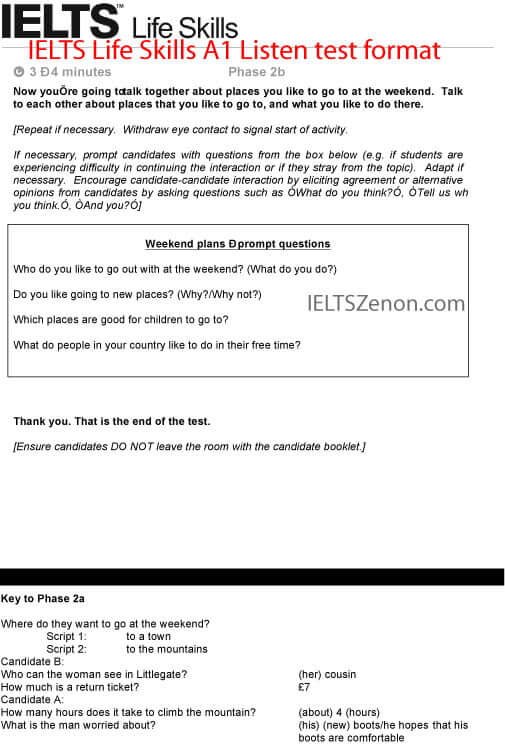 Demo video

:

IELTS Life skills A1 listening practice test

It's not a real test, it's a demo video for better understand. Just listen and watch the video of how the examiner and the candidates behave on the demo video of Ielts life skills a1 listening practice test. In this video, you will listen to 2 recordings. In the real test, the recording is played once only, so you must listen carefully.
You have to do in the listening test?
All Life Skills test-takers will be asked to complete a task played on a CD. Firstly when you complete the task, you'll be assessed on your ability to listen for both the general meaning and detail. Secondly you will say your answers, although you can make notes on paper while you listen to the CD. Because the following this task, you will be asked to discuss a theme related to what you have listened to on the CD. read more
How will you assess in life skills a1 listening?
A Nominated expert examiner will assess your performance throughout the Speaking and Listening test based on obtaining information, conveying information, speaking to communicate, engaging in discussion.
What about Results for IELTS Life Skills A1 tests
The Test results are normally available within 7 days of your test.
You will be in: Pass/ Fail.