Hey! I think you are on the right page for the IELTS Speaking mock test, so don't leave the page without reading first to last on the page. I think it will save your time. Let's talk about the "speaking mock test", the mock test is a demo test like your final test. In this test you have to face 3 parts, it will take a total of 12 minutes and 4 minutes for each part.
IELTS speaking mock test : 2023
It is a face-to-face informal conversation with an IELTS examiner, This test is the same for both Academic and General Training. By this test, the examiner will observe your pronunciation, fluency, grammar, and vocabulary. It's a way to know about your preparation. I think every test taker must do the mock test because it will help to get ready for the final test. if you practice with the mock test you will get your desire to score in the final test. You can save money by avoiding repeating the final exam. You can check the final exam fee. My dear don't be bored with a long introduction. it's important for you that's why I disclose it. Let's go !!
IELTS speaking mock test: question format
Here is a step by step guide, see it carefully
Part- 01 (4-5 Minute) (interview)
In this part, the examiner will ask about you and your life also he may ask more questions anything like:
Hobbies
Family
Leasure time
Childhood
Friend
Work or study
Home town
Smart Phone
NB: The first few questions will usually be about very familiar information. Listen carefully- don't guess or your answer may be off-topic. Remember to add to your answer by giving a reason, an example of contrast.
Sample question:
Do you use Smartphone?
How often do you use your Smartphone?
What kind of activities involves using a Smartphone?
How important is your Smart Phone to you?
Do you use your smartphone in photography?
Part- 02 (4-5 Minute) (Topics/cue card)
In the part, the examiner gives you a cue card. In this card, you will get a written topic with 3 to 5 points. You have to talk about that topic. You will get 1 minute for the preparation and making notes.
Examiner will request you to speak on this topic for up to 2 minutes. After that, he will ask you 1 or 2 questions about the topic. An example of a cue card is flowing: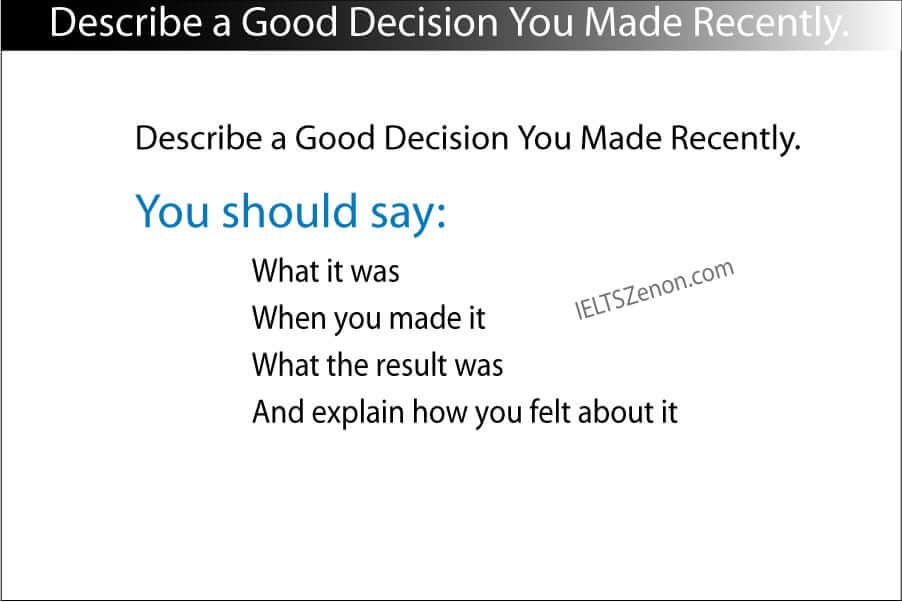 Part- 03 (4-5 Minute) (Topics/cue card)
Once your talk in part 2 is over, your examiner will ask further questions related to the topic in Part 2. (cue care) The examiner may ask you to speak about these points:
Why do you think your decision is good?
How important is it in your life?
Is it possible for your close friend?
What is the impact of your decision in the future?
There are lots of different questions you could be asked about the good decision you made recently.
This is the end of the speaking mock test sample.
If you want to enjoy the test and get the result you have to join a face to face conversation !!