Navigating the maze of IELTS preparation can feel overwhelming. Among the plethora of resources available, the "Cambridge Vocabulary for IELTS" stands out, emerging as a favorite among aspirants. Let's delve into why this resource is a must-have for anyone on the IELTS journey.
1. Comprehensive Coverage: Cambridge ensures you don't miss out. From everyday words to more academic terms, it covers the spectrum you'll encounter in the test.
2. Topic Specific Approach: Instead of a random list of words, Cambridge organizes vocabulary around common IELTS topics. This setup aids contextual understanding, ensuring you're not just memorizing but utilizing words effectively.
3. Practical Exercises: Practice makes perfect. Cambridge complements its vocabulary lists with engaging exercises. These tasks not only reinforce memory but also simulate actual IELTS questions.
4. Insightful Tips: It's not just about the words. Throughout the book, you'll find handy tips and strategies on how to approach different sections of the IELTS exam.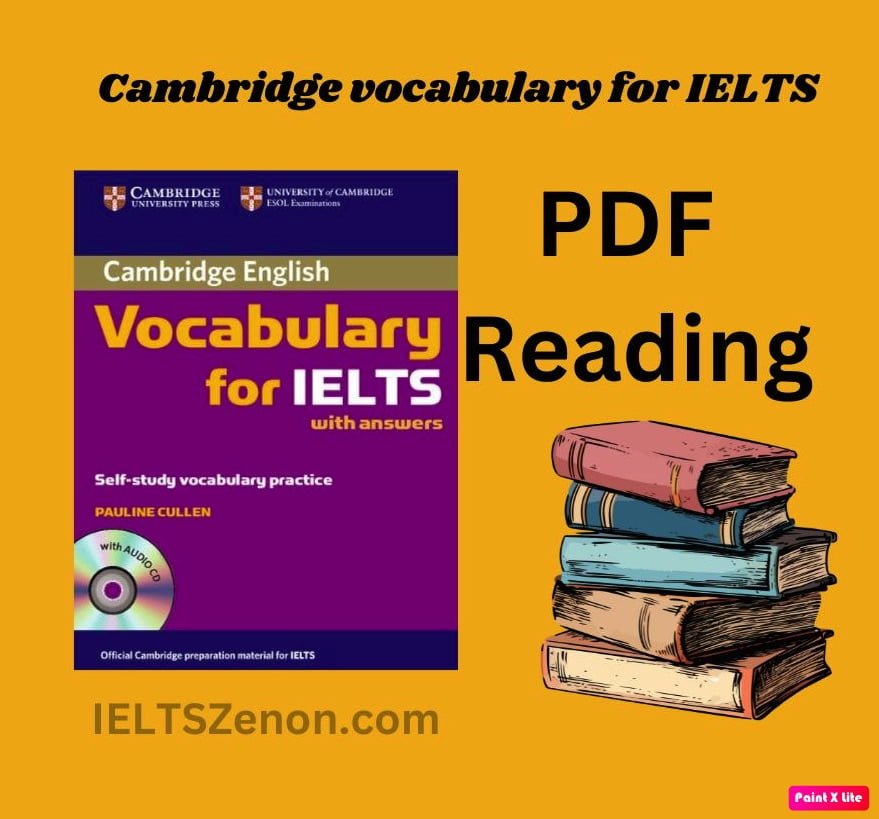 Most helpful informaion
5. Listening and Reading Focus: Two sections that often trouble candidates are Listening and Reading. Cambridge specifically gears its vocabulary to enhance comprehension and recall in these sections.
6. Beyond Vocabulary: While the primary focus is vocabulary, Cambridge doesn't stop there. It embeds grammar lessons within, ensuring you structure your sentences correctly.
7. Audio Support: Listening skills get a boost with the included audio recordings. They replicate IELTS listening tasks, making you exam-ready.
8. Self-study Friendly: Cambridge designs this book for both classroom and self-study learners. Its structure is intuitive, guiding you step-by-step through your preparation.
9. Realistic Practice Tests: At the end, Cambridge tests your readiness with practice exams. These mock tests are closely aligned with real IELTS exams, offering a realistic benchmark.
10. Trusted by Experts: Many IELTS trainers and tutors recommend the Cambridge Vocabulary, speaking to its effectiveness and comprehensive coverage.
To wrap it up, when it comes to IELTS vocabulary preparation, "Cambridge Vocabulary for IELTS" is more than just a book—it's a comprehensive toolkit. Armed with this resource, you'll not only boost your vocabulary but also approach the IELTS with newfound confidence. Dive in, embrace the learning, and watch your IELTS scores soar!
Download and read: Cambridge vocabulary book for IELTS
Resource stands out: the Cambridge IELTS preparation
Navigating the vast world of IELTS preparation, one resource stands out: the Cambridge Vocabulary for IELTS. This invaluable book not only boosts your lexical range but also offers contextual examples essential for mastering the test. Whether you're grappling with writing tasks or aiming for fluency in speaking, Cambridge provides the tools you need. With a focused approach, this guide ensures that every word you learn is IELTS-centric. So, if you're on the hunt for a comprehensive vocabulary builder, look no further. Dive into the Cambridge Vocabulary for IELTS and watch your language skills soar!
Best book for IELTS vocabulary: you should know
Diving into IELTS preparation? The "Cambridge Vocabulary for IELTS" book is an essential asset for your study arsenal. Notably, this comprehensive guide not only introduces you to a wealth of IELTS-centric vocabulary but also categorizes words based on common themes and topics. Moreover, with practice exercises and real-time test scenarios, the book ensures you apply what you learn effectively. In essence, if mastering the lexical challenges of IELTS is your aim, this Cambridge offering is undeniably your go-to resource. Dive in and watch your vocabulary prowess amplify!